The inaugural Yossi Berger Safety Award has been presented to Grant Cunningham, an AWU delegate and the Rolling Mill Team at Liberty Primary Steel in Whyalla, South Australia. The award was presented by National Secretary Daniel Walton, and South Australian Branch Secretary Peter Lamps at the Steel Works.
"At the AWU, nothing is more important to us than ensuring our members get home safely to their families at the end of the working day," said Daniel.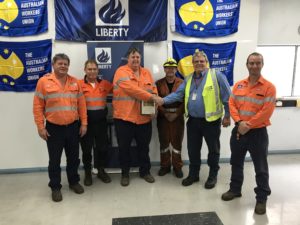 "We are very proud to present the inaugural Yossi Berger Award to Grant and his team for their hard work in improving worker safety at Liberty Steel. Their collective efforts have led to the elimination of a major hazard and created a much safer workplace for our members."
The award is named in honour of long-time AWU National OHS Officer Yossi Berger, who campaigned tirelessly for workplace health and safety throughout his career and helped shape the standards still seen on many worksites today. Yossi passed away in December 2017.
The SA Branch is immensely proud that the inaugural Award has been won by a SA representative given Yossi's strong relationship with the Branch and his unique interaction with our delegates and HSR's which will never be forgotten said Peter. Today's acknowledgement is testament to outcomes that are reached by workers and supported by management in a culture where safety is paramount than production.
An AWU member for over 15 years, Grant first became a delegate in 2016. He worked at the Rolling Mill as an operator, until a workplace injury saw him take up another role. "I was put in the office and given a special projects role to upgrade some things that happened around in the mill along with the broader team," Grant says.
It was the start of some changes. "We had a third incident where a bar went straight over a humpy (transportable), and I was given the role to sort this out. With the assistance of the Rolling Mill Team we developed a plan to move the humpy from the west side of the inspected shed to the east and build a new cover. That was a massive success and eliminated the risk completely."
Grant's nomination form submitted by the Branch Secretary specified a number of key improvements to worksite safety, including a new design for storing heavy cobble chain, which minimises human interaction and constructing a steel barrier to protect the Finishing End Crane, reduction in noise levels in the Steel Cutting process and minor changes in building design.
"Many of these changes had definitely improved morale."
As well as multiple improvements to machinery and conditions, there has been a huge recruitment for safety officers. Numbers rose from 6 to 22, almost four per shift. "When we have safety meetings, the room is full. Everyone is invigorated because they get a say.
A holistic approach to safety was developed by the team by opening a new line of communication between workers on-site and the management team. Rather than just speaking on behalf of his workmates, Grant and the team encouraged individuals to come forward and speak out, which has changed the way workplace safety is viewed as a whole.
"This has created an atmosphere at Steel Products, where the workers feel encouraged to bring thoughts and ideas of improvement to management, and have the confidence that they will be treated seriously and with respect," Peter Lamps wrote when nominating Grant on behalf of the South Australian branch.
Liberty Steel has also recognised Grant and his Team's efforts at Rolling Mill, and he was nominated for the Liberty Primary Steel Chairman's Award for outstanding efforts in safety.
Grant paid tribute to the power of unionism and of everyone working together. He says the credit goes to his fellow mill workers, management staff, and the AWU, who supported and carried out the recommendations. The improvements on the site would never have gone ahead without their assistance.
"It definitely was a team effort from Shane Karger, Richard Cass, Mark Watford, Neil Simon – without them, I wouldn't have been successful. I've only been the frontrunner of instigating. I've just been the voice of the people to initiate getting the work done to management."
Grant also gave a special thanks to his former organiser. "Scott Martin helped me throughout my injury and after, with my transition into the office. We had meetings with Mark Watford and upper management, so a big thanks to Scott."
While he may have been awarded the trophy, in Grant's eyes, the Yossi Berger award recognises the collective efforts of all workers at Rolling Mill. "It's a team win, it's not myself," he says.